Dr Jen Birks
Lecturer in Media in the Department of Culture, Film and Media at University of Nottingham.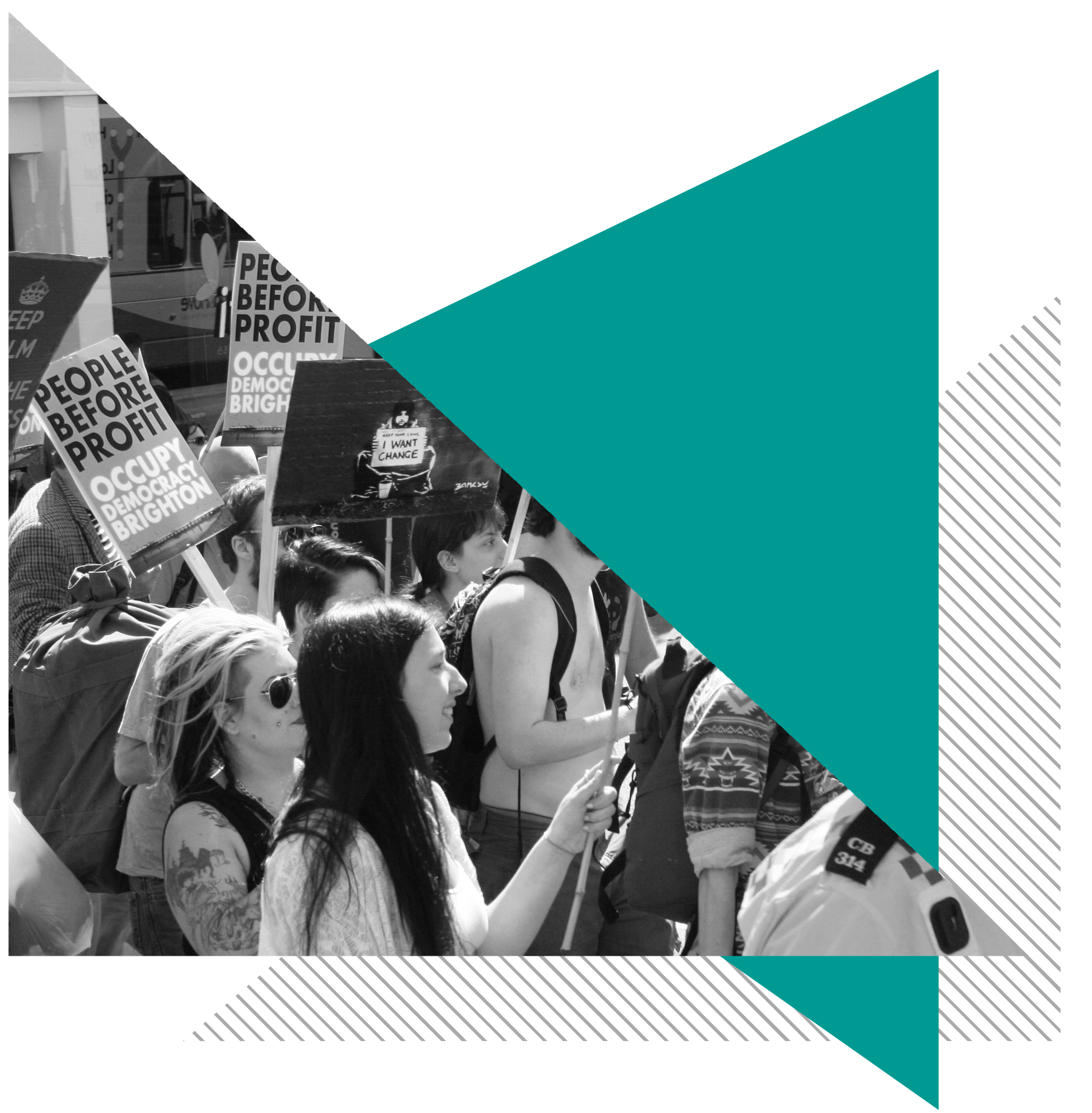 Section 5: Campaigning and Civil Society
Civil society is generally not party political (with the exception of the trade unions and arguably the growing nationalist movement), but addresses political issues. News coverage of election campaigns, in contrast, has long, though perhaps increasingly, been focused more on the horse-race than the political substance. What's more, voting is assumed to be individual, and therefore predominantly a pragmatically self-interested act. There would seem to be little room, then, for organised citizens taking action to express a public opinion (acknowledging multiple publics and not just a simplistic aggregation), or to place pressure on parties to accommodate those concerns in their manifestos. Instead, election reporting is dominated by opinion polls and voter panels constituted to be representative of a local – but not a policy or issue-based – constituency and are asked only to respond to what they are offered by the politicians and to judge their performances.
protest was given predictably little attention during the campaign, and rarely portrayed as an expression of public opinion on formal politics or policy proposals
However, over the course of the previous parliamentary term, civil society organisations, associations and protest groups have been credited with some policy influence: notably Citizens UK over the end to detention of immigrant children and UK Uncut on the introduction of a General Anti-Abuse Rule to tackle corporate tax avoidance. Protests during the campaign similarly opposed specific policies of the previous government and demanded their reversal, such as ending the bedroom tax and other public sector cuts, more social housing, and more effective tax avoidance measures.
Nonetheless, protest was given predictably little attention during the campaign, and rarely portrayed as an expression of public opinion on formal politics or policy proposals. In the rare instances where the press made reference to the anti-austerity movement it was as an alternative form of engagement with politics, contrasted to voting. For instance, UK Uncut were mentioned just three times during the election, despite a relatively popular social media campaign. In one, Armando Inannucci reports how he urged young people at a school event not to reject voting in favour of single-issue politics, in a second Guardian columnist Zoe Williams is criticised for suggesting in her latest book that, since the mainstream parties are locked in a fight for the centre ground, we should look to civil society for political change. Owen Jones, however, makes a more specific argument that both those who say that protest doesn't work and those who say voting is pointless are wrong, arguing that activists won Labour Party commitments on tax avoidance, the bedroom tax, zero-hours contracts, and reversing privatisation in the NHS, which were both testament to the power of protest and reason to vote Labour.
Indeed, in as far as the anti-austerity agenda was prominently addressed in the media, it was overwhelmingly via politicians, not least in relation to the leader debates – but it was the minority parties that made these representations, and SNP leader Nicola Sturgeon's invitation/challenge to Miliband that drew all the attention. Of course the Green Party has emerged from civil society, and yet further in the margins, other civil society organisations fielded candidates, including the Trade Unionist and Socialist Coalition and even anarchist Class War, though only The Daily Politics interviewed them.
Where protest did make headlines, it was as part of the 'SNP threat' newsframe, using the aggressive heckling of Scottish Labour leader Jim Murphy by nationalist campaigners to smear the party by association. However, it is in the wake of the result that the conservative press has returned to traditional delegitimisation of protest. Despite giving UK Uncut some credit for raising the issue of tax avoidance, and displaying begrudging tolerance of Occupy LSX, the Daily Mail now warns of "left wing fanatics", "rabble rousers" and "extremists", the latter apparently referring to all 45,000 people who have joined the Facebook event page for The People's Assembly anti-austerity protest.
The more formal and sober Citizens UK, however, did receive some favourable attention (25 newspaper articles) though mostly in The Guardian, Observer, Independent and Mirror. Since Cameron's refusal to take part in an election debate with Ed Miliband was a big story before the formal campaign had even started, his refusal to take part in a Citizens UK hustings event attended by both by both Clegg and Miliband fitted the news agenda, much as in 2010 when the same event attracted attention for hosting Gordon Brown's first and only well-received speech of the campaign. However, the discussion format was rather different from the TV debates, with politicians asked to respond to the policy agenda set by Citizens UK's member organisations (mostly faith groups, trade unions, schools and university departments), followed up by working parties tasked with developing policy proposals, whilst others provide testimony of the issues at hand. This subtle challenge to the way election politics is done was given more recognition this time round, and may be one to watch in 2020.