Dr Stephen Cushion 
Senior Lecturer and Director of MA Political Communication at Cardiff University School of Journalism, Media and Cultural Studies, Cardiff University.
Richard Sambrook
Professor of Journalism and Director of the Centre for Journalism, Cardiff University, which undertakes postgraduate vocational training.
He is a former Director of Global News at the BBC where he worked as a journalist for 30 years as a producer, editor and manager.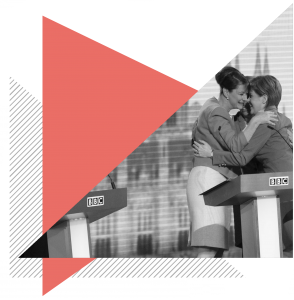 Section 1: Media Reporting
Two main conclusions can be drawn from the way the news media reported the 2015 general election campaign. First, that traditional media still count and determine much of the campaign agenda. Second, that polls shaped much of the campaign narrative – which is a particular problem when they turn out to be wrong.
The evidence clearly shows the Conservative press was very anti-Labour during the campaign – even more so than in the 1992 election – undermining Ed Miliband's character, with regular and prominent front page attacks against him. But whilst readers might see through the obvious partisan influence of right wing newspapers, there were occasions when newspaper coverage shaped the wider media agenda, including the evening bulletins – still overwhelmingly the primary source of information for most voters. It would appear the Conservatives won the election on their handling of the economy – the most prominent issue reported in TV news. In contrast, Labour's biggest vote winner was the NHS, but this issue was barely covered on the major TV bulletins.
Much TV coverage focused on "horse-race" aspects of the campaign, with the dominant narrative shaping the election – that it was neck-and-neck between Labour and the Conservatives and a coalition deal was the most likely electoral outcome – supported by polling. In hindsight, this was a significant distortion of campaign coverage.
Just as the Polling companies must review their performance in the campaign, broadcasters should reflect on the impact reporting, what turned out to be misleading, polls had on their coverage and how informed – or misinformed – it left audiences before voting day.
Cardiff University conducted a systematic content analysis of evening TV news bulletins over the "short campaign". We examined bulletins on Channel 5 at 5pm, Channel 4 at 7pm and at 10pm on BBC, ITV and Sky News in order to assess which issues, parties and leaders dominated the news agenda and how.
Across the first five weeks of the campaign, less than half of election news airtime on all five main broadcasters centred on policy, with the BBC dedicating the most time – 48.6% – compared with Channel 4's 43.8% and ITV's 40.2%.
Sky News spent just 34.8% of its election news covering policy matters, while less than a third of Channel 5's airtime – 31.1% – was based on issues such as health and the economy.
The Conservatives arguably had the stronger showing on TV. Channel 4 and Channel 5 gave Conservative party voices about a third of election coverage airtime in their main news bulletins in the first 19 days of the campaign. Both the BBC and Sky News featured Conservative sources speaking for longer than those from other parties on their flagship news shows.
However, ITV featured Labour sources slightly more often, 26.9% compared with 25.1% for the Conservatives.
Channels 4 and 5 gave far less time than other broadcasters to the SNP. On both channels the SNP accounted for 2.5% or less of time given to party sources speaking. In contrast, BBC, ITV and particularly Sky News granted the SNP a far greater share of coverage – between 13.7% and 18.5% of airtime.
By the second half of the campaign, the party fight rather than policy truly dominated. Between 30 March and 24 April, 43.4% of election news items on the major evening bulletins that gave airtime to a party source saw them attacking a rival's policy or personal character. In contrast, 38.2% of soundbites were about politicians' own policy agendas.
By week five of the campaign almost a quarter of all election TV news – 22.7% – focused on the likely "winners" and "losers" in the contest, while possible coalition deals became a more prominent theme from 13th April onwards.
Perhaps most striking is the minimal coverage paid to the NHS. According to Guardian/ ICM polls more than two-thirds of the electorate rate the NHS as the single most important issue. But despite receiving some attention in the second week of the campaign – 10.7% of all election TV news – the NHS has barely registered on the agenda of the main evening bulletins before or after then, making up between 0.7% and 1.1% of total election coverage.
Similarly, education – ranked fourth in issues most concerning voters – did not even make it into the top 10 topics addressed by TV news bulletins. Other key policy areas – such as the environment, pensions or transport – have also been marginalised.
So it's clear that "horse-race" coverage and predictions of a hung parliament marginalised discussion of wider policy issues through the campaign. And extensive discussion of coalition deals and permutations may well have influenced how people voted.
Research by Richard Thomas, Allaina Kilby, Marina Morani and Sue Bisson.