After an EU referendum campaign riddled with dubious claims on both sides and a certain cynicism toward experts, not to mention the US election and Trump's 'alternative facts', the press raised concerns early in this election campaign about the need for fact-checking. Interestingly, these concerns seemed to pertain chiefly to 'fake news' articles shared via social media rather than their own inadequate systems of verification. Of 33 election-related articles mentioning 'fact-check(ers/ing)' from the start of the campaign to election day, nine were about fact-checking rather than conducting it, seven of these related to Facebook's efforts to flag 'fake news' in partnership with third-party fact-checkers, and only one referred to its role to "discern spin from falsehood, and political manoeuvring from sinister manipulation" by politicians. Probably not coincidentally, this appeared in the i-Independent (8th June) one of the two newspapers (with The Times) to run their own 'fact-check' articles.
With limited space, I will focus on the three main fact-checking blogs, Channel 4 News' FactCheck, BBC Reality Check and independent charity Full Fact. As you might expect, BBC Reality Check was scrupulously fair in checking an even number of claims from both main parties, though both FactCheck and Full Fact checked more Labour claims. However, the subject of the claims was far more often Conservative policy (30) or their performance in government (61), perhaps inevitably as the incumbent party. Accordingly, the Labour claims selected for scrutiny tend to be criticisms of the Tories record in power since 2010 (63.6%) rather than their own policy (24.2%), whilst Conservative claims were mostly on their own policy claims (53.3%) or performance (46.7%), but significantly, none of the Tories' criticisms of Labour were fact-checked.
The issues that dominated were not wildly different from the patterns in overall coverage indicated in the Loughborough University research, with fiscal/tax, health and policing/security all featuring prominently, but Brexit-related claims appeared to receive less scrutiny, though immigration a little more. One surprise, though, was that the top issue was employment, three-quarters of which checked (mostly Labour) claims on the Conservatives' record on low pay and stagnant wages. However, given that the Tories claimed to promise the "biggest expansion of workers' rights by any Conservative government", we might have expected to see some scrutiny of those policy proposals. Labour, in contrast, were primarily scrutinised on the costings in their manifesto and whether their 'sums added up', with the IFS the most common source. In contrast to their broad judgements about the scale of interventionism quoted in the right-wing press, the fact-checks focused on the IFS's specific arguments, but much was still taken on trust in their expert judgement. For instance, it's not clear why they judged insufficient the amount that Labour had earmarked to take account of behavioural change reducing the amount raised from increasing tax rates.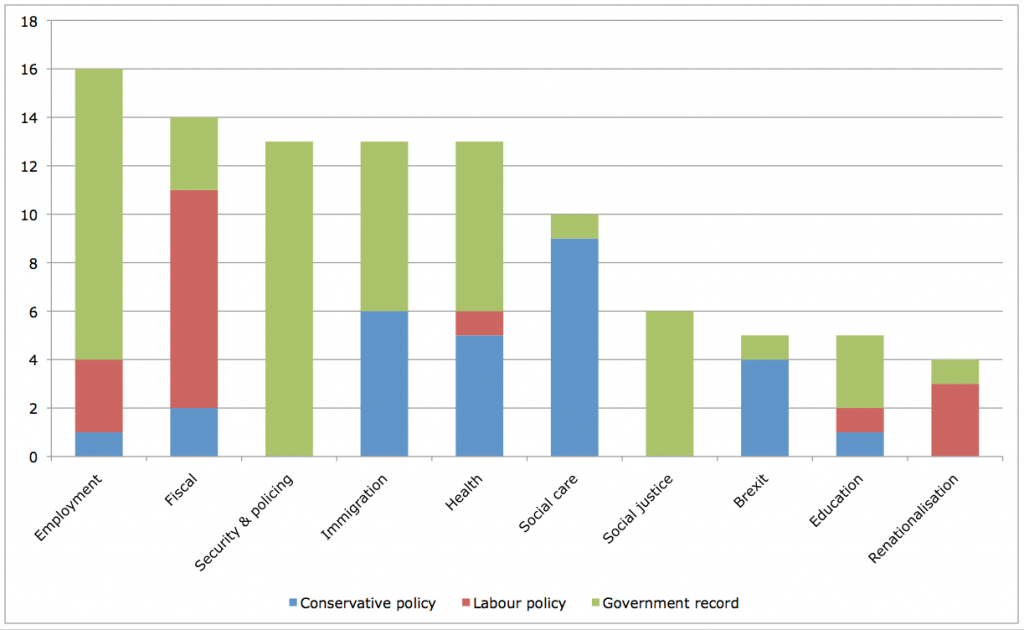 One shortcoming of fact-checking is that they rarely scrutinise claims made by news media. Only Full Fact fact-checked a tabloid scare story (the Express on replacing council tax with land tax, which they characterised as a 'garden tax'), though FactCheck and Reality Check did obliquely addressed the personal attacks on Corbyn as a 'terrorists' friend', with checks on his voting record and statements condemning violence.
Examination of how these fact-checks have informed the general news reporting, however, still finds journalists outsourcing scrutiny of factual challenges to other interviewees, generally opponent politicians, 'balancing' truth claims rather than adjudicating. One illustrative example: Labour talked about a schools funding crisis whilst the Conservatives argued that they had protected or even increased funding. C4 News FactCheck concluded on 10th May that the total schools budget had been protected in real terms since 2010, but with pupil numbers and staffing costs rising, the IFS calculated the impact to be an 8% real terms cut in spending per pupil.
On Channel 4 News that evening, Cathy Newman did challenge Conservative Neil Carmichael on his insistence that education spending was the highest of any government in history, interjecting "not in real terms", which he conceded, with another dubious caveat. Although the reduction per pupil was not mentioned, this shows a willingness by a presenter to press a politician on factual truth claims. In contrast, two days later on BBC Radio 4's Today programme, a presenter shut down Labour MP Karen Smyth's challenge to Conservative Mark Harper's claim to have "increased education funding". When she objected "not per pupil", Justin Webb interjected "Let's park that there, they say they have, you say they haven't", the very epitome of he-said, she-said journalism.
None of this is to say that audiences will be convinced by expert fact-checks, since research indicates that other heuristics such as ideology have a strong role, as well as a general persistence of belief in the face of contradictory evidence, but swift, prominent and specific correction can only help overcome the lack of trust.